MBBS in Crimea Federal University in Russia
Are you planning to do medical studies abroad? If yes, then Crimea Federal University located in Russia is one of the best options. Crimea Federal University is one of the top Universities for doing MBBS from Russia. The faculty of General Medicine is preferred by Indian students planning to study Medicine. The said medical institution is referred to as the most prominent and prestigious Medical Schools in Russia.
In 1998, Crimea Federal University became one of the top Universities having the 4th highest accreditation level. It is home to scholars. Students from all over the world pursue education in medicine. Many eligible students from different Indian cities apply for a medical seat but only a few of them succeed in seeking MBBS admission in Crimea Federal University based in the developed nation Russia.
MBBS in Crimea Federal University
Crimea Federal University is one of the most liked universities among the international MBBS aspirants planning to have a career in the medical sector.
The Faculties There Include:
Faculty of General Medicine
Faculty of Dentistry
Faculty of Pharmacy
Faculty of Clinical Psychology
Faculty of Paediatrics
Each year hundreds of international students apply there for doing MBBS.  The low tuition fees, a better studying environment, etc. make this university highly preferred by overseas candidates including Indian applicants interested in MBBS in Russia.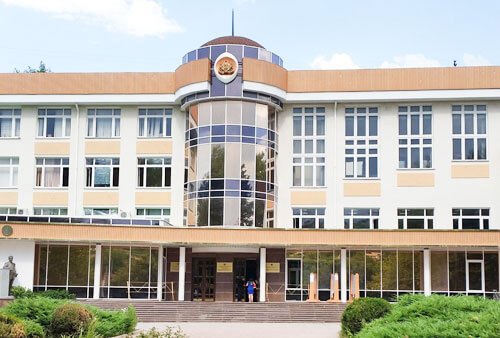 Crimea Federal University - Quick Facts
Refer to the important facts related to Crimea Federal University that help make a better decision.
The MBBS Admission in Crimea Federal University
The MBBS admission in Crimea Federal University is given only to the most eligible and deserving candidates. MBBS course duration there is 6-years including a 1-year apprenticeship as well which is important to gain practical knowledge in medicine.
Steps for MBBS Admission to the University:
Candidates planning to apply for MBBS admission in the Russian educational institution Crimea Federal University have to fill an online application form.
Fill in all the required fields available on the application form and register for the MBBS Course.
Candidates who meet the eligibility criteria will get an offer letter from Crimea Federal University.
After getting an invitation letter from the university, students need to apply for a visa. The entire process to get a visa is quite convenient.
Once the arrival time is confirmed, students need to inform the university regarding the same.
The admission process will be completed when candidates sign an agreement with the university and pay the tuition fee for the 1st year.
Documents needed while Applying for MBBS in Crimea Federal University
Copy of passport
10th mark sheet
12th mark sheet
SOP letter
NEET report card
Application form receipt
Birth certificate
Medical certificate
Passport size photographs
Crimea Federal University Fees in Russia
Students planning to apply there can go through the detailed MBBS fees at Crimea Federal University. Below is the approx. tuition fee. The tuition fee is subject to change and hence students should check the current session fee while making an application for admission to the MBBS course in the Crimea Federal University, Russia.
2022-23 Fee Structure Approx.
Year / Fees Structure
Tuition Fee
Hostel Fee
Total Fees
First Year
6500$
Included in Fee
6500$
Second Year
4000$
500$
4500$
Third Year
4000$
500$
4500$
Fourth Year
4000$
500$
4500$
Fifth Year
4000$
500$
4500$
Sixth Year
4000$
500$
4500$
Food Charges (Per month) = 90$ TO 100$
MBBS in Russia – Tuition Fees and Hostel Charges for 6 Years
29000$
Why do MBBS from Crimea Federal University?
Doing MBBS in Crimea Federal University can help you become the part of the growing medical field in the world. It will help you offer your medical services to needy patients in India.
Key reasons for getting a medical degree from this university are:
Crimea Federal University has well-structured student exchange programs and has tie-up with many medical universities located in Europe and globally.
Students get a world-class education meeting all international standards.
The availability of getting Indian cuisine is something attracting Indian students to this university.
The university has received accreditation from the Russian Government and from the Ministry of Health and Education.
Classes are delivered in English allowing international students to understand the concepts easily.
The nation has a low crime rate and hence safe for higher and medical studies.
Each year, a good number of Indian candidates take admission to a medical course at the Crimean Federal University. If you also want to do an MBBS study abroad then Crimea Federal University is truly one of the right options for you.
Contact Meta Meta Career & Education Service for the complete documentation and MBBS abroad admission support in Delhi today!