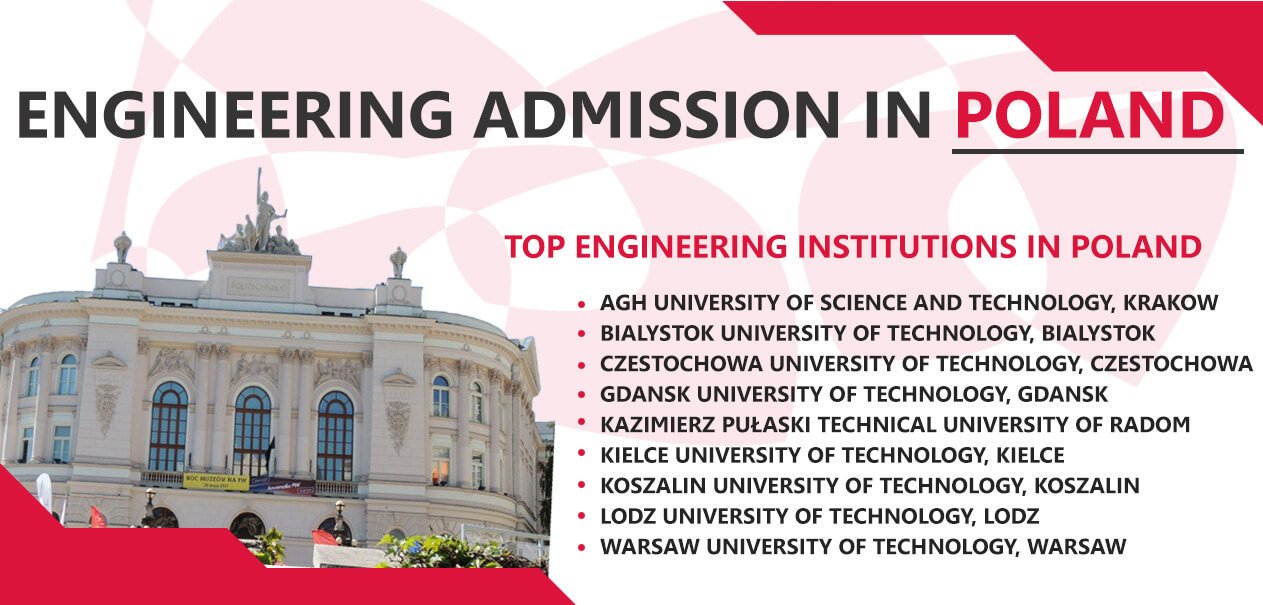 Engineering Admission in Poland
If you plan to undertake Engineering Education, Poland is the best destination for Engineering Admission in Poland for you! Poland has many technical universities in various cities across the country. Polish Technical universities are famous for their high quality of teaching and research departments. Which many international students residing in Poland score so high in international contests.
Technical Universities (Engineering Education) in Poland are among the best internationalized in the country. Poland accepts many international countries students for Engineering Admission in Poland from different countries from India, Nepal, Bangladesh, Afghanistan, Saudi Arabia, Middle East Countries, Africa, South America and etc… The offer of engineering Education in Poland is very high and you can find other courses program in English Medium. You might be interested in doing course from Poland.
Poland universities offer the best quality of Education/studies in Poland and are an integral part of the European study Centre. All Most universities offer courses in English Medium, Like Medicine, Engineering, Humanities, Business and Finance. Poland takes active part in the Bolonia Process. Thanks to the ECTS (European Credit Transfer System) students can be fully equipped, and continue education in rest of countries. Universities have enough Environments to take care of the requirements of international students. Specially assigned Polish students help newcomers to adjust to the new environment. Education pattern of Poland Universities is the large share of it in the hands of private institutions of higher education. The composition of the Polish market is comparable to that in the USA. There is all most 300 privately owned universities and colleges in Poland and 130 state schools of higher learning. High level of competition the cost of studying is lower than in other European countries.
Engineering Universities in Poland
You can be a part of Europe's major technical startup hub by securing engineering admission in Poland. The universities are highly advanced in their teaching methodologies with professors explaining subjects in the best possible manner. The courses involve various practical researches and internships as a part their curriculum. The programs are regularly revised keeping in view with the requirements of the engineering industry. The lecturers are experts in their field with prior work-experience in relevant industries. They impart their brand of personal knowledge while teaching the courses.
Some of renowned universities include:
AGH University of Science and Technology, Krakow
Bialystok University of Technology, Bialystok
Czestochowa University of Technology, Czestochowa
Gdansk University of Technology, Gdansk
Kazimierz Pułaski Technical University of Radom
Kielce University of Technology, Kielce
Koszalin University of Technology, Koszalin
Lodz University of Technology, Lodz
Warsaw University of Technology, Warsaw
Type of Engineering Degree in Poland
mechanical engineering in poland
biomedical engineering in poland
civil engineering in poland
aerospace engineering in Poland
computer engineering in Poland
chemical engineering in Poland
Why Choose Poland For Engineering?
By enrolling for an engineering admission in Poland you can be a part of cosmopolitan student community. The total student population at over 400 university level schools is almost 1.5 million. It attracts foreign students from with its progressive and inexpensive teaching. The cost of living is quite low in comparison with other European nations. Monthly expenses cost around 570 to 675 USD, in this highly developed country. The community is largely cosmopolitan welcoming students. The weather conditions are moderate and pleasant with chilly winters. We understand your concerns when it comes its overseas education. We can help you select your course with your budget. Pick up the phone and give us a call today.
Engineering Admission in Poland
Meta Career & Education Services Pvt. Ltd offers students the opportunity to get engineering Education/Degree programs in abroad/around the world, including Bachelor's degrees, engineering Master's Degrees. Now you can find more information on the Engineering Education Programs in the engineering courses/speculations as mentioned below- Study options available for Engineering Education in Poland
Civil Engineering
Architecture
Mechanical, Mechanics and Machine Building/Machine Designing
Electronics and Communications
Electrical Engineering
Automobile Engineering
Computer Science
Information Technology /Internet Engineering/Cyber Security
Telecommunication Engineering
Robotics and Remote Sensing
Aerospace
Aeronautical
Space engineering
Industrial
Environmental
Solar Energy
Energy storage
Power
Environmental Engineering and Management
Mining
Renewable Energy
Production Management and Engineering
Business Information Systems
Refrigeration and Cryogenics
Informatics
Bio Technology
Chemical
Bio Chemical Engineering
Polymer Engineering
Applied Physics/Chemistry
Bachelor's Degrees and Master's Degrees Programs in Engineering is recognized Worldwide. You can Find Engineering Education in Abroad in these countries Like-India, Russia, China, Singapore, Japan, Ukraine, Poland, Germany, United Kingdom, other European Union Countries, United States of America, Australia, New zealand and etc.
Vistula University
Wroclaw University of Technology
University of Wroclaw
Gdansk University of Technology
St. Vincent Paul University, Lublin
University of Gdansk
Collegiums Civitas
Warsaw University of Technology
Warsaw School of Economics
Our Services to all Students
Accommodation assistance and arrangements
Education Poland shall book the accommodation as desired by students and as per the availability in / off campus for the students before they depart from India.
University enrolment / Accommodation assistance
Obtaining student card
Assistance in opening a bank account
Notification / Legalisation of documents in Poland (this is required generally for Bachelor level courses)
Obtaining residence permit (if required)
Providing placements assistance.
For ALL Students: Assistance in obtaining 'BLUE CARD' for work & settlement throughout European Union
BLUE CARD-THIS IS A NEW WORK AND SETTLELMENT OPTION FOR POLAND AND EUROPE
Popular specializing subjects for many foreign students are
Aerospace Engineering
Agricultural and Forest Engineering
Architecture and Urban Planning
Automation and Robotics
Environmental Engineering
Civil Engineering
Computer Engineering
Road Engineering
The tuition fee costs around 4000 USD. It is highly subsidized by the Polish government so many students can avail of education. There are various other funding options available for international students in the form of scholarships and discounts.
Employment galore in Poland after graduation
You can be assured of having very high job prospects by gaining engineering course in Poland. The country attracts global investors for business. It has a relatively better ease of doing business index. Universities offer placements in reputed companies worldwide. The students can work part time during the course of their education to earn a little extra to support themselves.