Kazan Federal University is one of the oldest universities in Russia. It has recently celebrated its 210th anniversary in 2014. This is one of the biggest milestones for the university. It is one of the leading educational institutes in the world. The University gained international fame due to its scholar's achievements. The gained fame has a beneficial effect on the university image in the world. Students from the Russian Federation and neighboring countries study at Kazan Federal University.
University is growing as adopting new technologies to let their students master their education. Kazan Federal University Russia is a dynamic and modern university. It is collaborating with the world's leading educational institutes to cooperate with each other in the education field. It is serving through world-class researches and has established its teaching laboratories in recent years.
Medical students from different nations get the advantage of international diverse culture by pursuing an MBBS study at Kazan Federal University.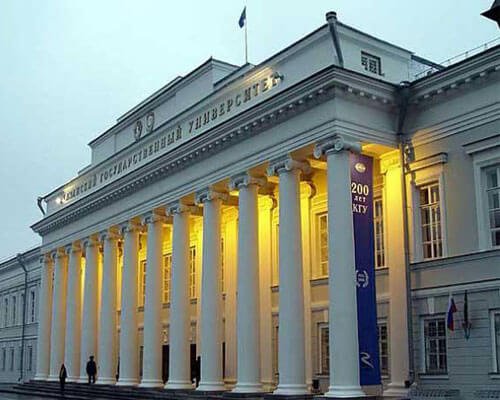 Why Kazan Federal University is the best?
Admission Criteria for MBBS Admission In Kazan Federal University
Affiliation & Recognition MBBS Admission in Kazan Federal University
WHO (World Health Organization)/Russian Government through the Ministry of Health on the basis of the laws of Russian Federation, MCI (Medical Council of India), Ministry of HRD India.
Kazan Federal University Admission Process
There is a standard Kazan Federal University admission procedure that you have to follow for speedy approval of your MBBS admission application.
Year / Fees Structure
Tuition Fee
Hostel Fee
Total Fees
First Year
8000$
350$
8350$
Second Year
6400$
350$
6750$
Third Year
6400$
350$
6750$
Fourth Year
6400$
350$
6750$
Fifth Year
6400$
350$
6750$
Sixth Year
6400$
350$
6750$
Food Charges (Per month) = 80$ TO 100$
MBBS in Russia – Tuition Fees and Hostel Charges for 6 Years
42100$
Hostel Accommodation Facility at Kazan Federal University
Kazan Federal University is a world-renowned and prestigious medical university. It provides a world-class education for strengthening global medical services. So, Indian students can now study in one of the most demanding universities in Russia at an affordable cost.