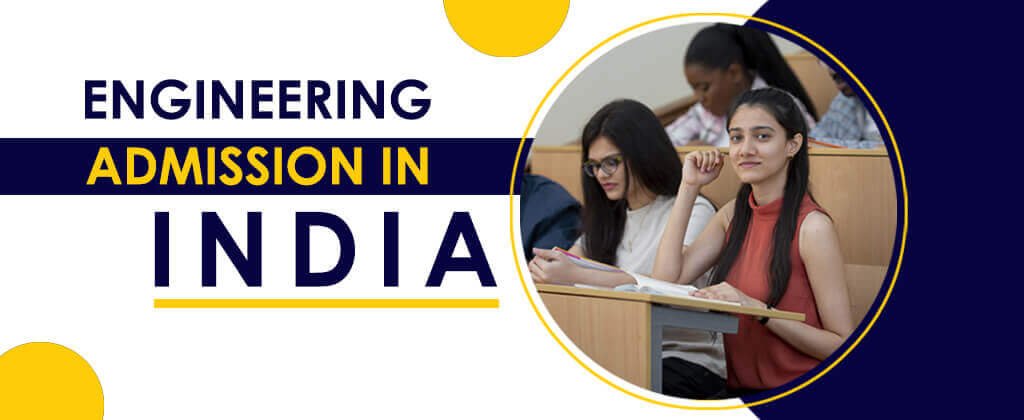 Engineering Admission in India 2023
Engineering Admission in India – Engineering is one of the best choosing course in India for students who wish to undergo Bachelors and Masters studies in India. There are the thousands of Engineering Institutions in the Country but only above 4000 of them have the necessary recognition. Fewer yet are deemed Universities. Every Year lacks of students pass out of these colleges, each with the hope of making it big, earning a lucrative career and salaries. Most of students prefer to take up jobs in the Computer, IT, Automobile, Civil Engineering Industries and in core engineering industries. As per today demand, Engineering Course has become most popular course. We provide Career Counseling and Admission guidance for best and Recognized engineering colleges in India. Today Engineering Education is the activity of teaching knowledge and principles related to the professional practice of Engineering. It is typically accompanied by additional examinations and supervised training as the requirements for professional engineering license.
Choose Engineering Admission in India for a Rewarding Career
Engineering in India is one of the preferred choices of millions of students having an interest in technology. Engineering became widely desired after a career in the 1920s, owing to the enormous development in the need for engineering degrees by the science and computer sector at home and abroad. Parents encouraged young people to pursue studies in the demanding field of engineering. A job in engineering is one of the most wanted after occupations in India and across the world. It provides enormous job satisfaction provided you have the aptitude for it.
Is there any other profession that allows you to have such a significant influence on the world? You could be assisting in the development of a high-efficiency aviation engine, energy-efficient buildings, life-saving medical gear, self-driving automobiles, or a completely new kind of renewable power, among other things. There are countless ways to make a beneficial impact in the world. It is all about using specialized practical and technical abilities to solve difficulties. Making career in engineering is a good decision. The opportunity to study engineering in India at the best engineering colleges in India can also help you accomplish your long-term career goal.
The Types of Engineering in India
Students have the facility to choose from the types of engineering in India. Admission to an institution is based on the availability of a seat in the chosen engineering type. The different educational institutions offering courses in engineering ensure the all-round development of students. 
Computer Science and Engineering is more about the creation of software and hardware, and it combines the fields of electrical engineering with computer science fascinatingly. The industry's unexpected expansion in the last years has resulted in a respectable increase in chances and pay scales. Computer Science and Engineering is one of the greatest engineering programs, with students getting jobs in well-known organizations. Companies that hire computer engineering experts include Amazon, LinkedIn, IBM, TCS, Adobe, NXP Technologies, Samsung R&D, and Kraftly.
For years, aerospace has been the main topic of conversation, and study and development in the field have provided this sector with a face. Aerospace engineers are among the highest-paid professionals in the business, and they specialize in aircraft and aerospace design and implementation. Mechanical design engineers, aircraft production engineers, aerospace designer checkers, consultants, and assistant engineer trainees are among the jobs they can pursue.
Mechanical engineering is one of the top engineering degrees because it combines all of the recent advancements. In recent years, the most popular degrees have been B. Tech Mechatronics or B.Tech Mechanical Engineering. Engineers can work for government agencies like Railways, SAIL, Metro Projects, BHEl, and others, as well as commercial firms such as TATA Motors, BAJAJ, and Design Tech System Ltd.
Young students learn how to design, test, and fix electrical components in this discipline. The leading courses in the engineering area are B.Tech Electrical and Electronics Engineering or B.Tech Electronics and Communication Engineering.
India's biotechnology sector is expected to develop at a 30.46 percent compound annual growth rate (CAGR) by 2025. India is one of the world's top biotech locations, with a diverse range of prospects for biotech engineers. Immunology, biostatistics, ecology, animal husbandry, and other biotech specialties are available to students. Animal husbandry, farming, biomedical research, eco-conservation, and the development of pharmaceuticals, fertilizers, and pesticides are all areas where biotech engineers can work.
Students seek a suitable college to finish their education and become potential experts after identifying the engineering sector of their passion and enthusiasm while keeping the growth element in mind. Due to its world-class rankings and acknowledgements, there are many engineering courses available.
The Types of Engineering in India
Computer Science and Engineering
Biotechnology Engineering
Mechanical Engineering
Civil Engineering
Aeronautical Engineering
Automobile Engineering
Electronics and Communication Engineering
Electrical and Electronics Engineering
Data Science
Power Electronics
The Best University for B. Tech in India
In India, 4,658 engineering institutes provide Bachelor of Technology (B.Tech) degrees in a variety of fields. There are 4,151 top B. Tech colleges in India, including both government and private institutions. Because the range of B.Tech is so broad, it has to be divided into various specializations, which has resulted in considerable growth in the number of potential students for the program in recent years. The Indian Institute of Technology (IIT Madras), Chennai; Indian Institute of Technology (IIT), Delhi; Birla Institute of Technology and Science (BITS), etc. are among the best University for B. Tech in India well-known for its academic excellence.
Private Engineering Colleges in India 2023
SRM University Chennai – SRM Institute of Science and Technology
DSCE Bangalore – Dayananda Sagar College of Engineering
VIT Vellore – Vellore Institute of Technology
RVCE Bangalore – RV College of Engineering.
Many ranking agencies and major periodicals around the country rate various colleges based on a variety of criteria. The approach taken varies from one agency to the next. However, teacher-to-student ratios, placements, faculty quality, equipment, and other factors are all common. Some of the most well-known ranking organizations in India include The Economic Times, QS ratings, India Today, Outlook, The Week, and NIRF. Various institutions are ranked in different categories by these rating agencies.
The National Institutional Rating Framework (NIRF) is the most well-known government ranking agency. It was created to rank various institutions based on their operational areas. NIRF ratings are based on several factors. These variables have been classified into five fundamental categories, each with a different weighting.
These are some of the institution rating parameters
Resources, education, and learning
Professional practice and research
Graduation results
Inclusion and outreach
Perception
The Best Engineering Colleges in India
The list of the best engineering colleges in India keeps on changing based on the ranking received by the different rating agencies every year. The ratings are primarily given considering the quality of education and the amenities at the educational institution. Another well-known publication that assesses universities based on a variety of criteria is The Week. Size and facilities, staff and teaching, admittance standards, employment, and alumni are some of their parameters. The ranking is determined by the total scores, which are calculated by combining all of the above-mentioned factors.
Below is a quick glance at the best engineering colleges in India
About The Top Engineering Colleges in India
The position of an educational institution keeps on changing. Hence, it is better to check the latest list of the Top Engineering Colleges in India during the session you choose to apply for an engineering programme.
Below are the Top Engineering Colleges in India
You must first decide the engineering field you want to follow before selecting a college. This is a crucial phase since no one wants to enroll in a program if they are not sufficiently motivated to do so. Following that choice, you must choose three different engineering programs to fall back on if you are not qualified or if you are unable to obtain the stream of your preference.
It's a good idea to arrange your college options into three categories. The top-tier universities that are challenging to get into will be in the first group. The second set of institutions can include those that are above normal and relatively simple to get into, as well as those that you will be glad to go without regret. If the other institutions you explored didn't work out, the final category must be colleges where you will almost certainly be accepted. This method of categorization can be beneficial. Other factors to consider are the distance from home, budget, and reputation of the institution.
Searching for grants and financial assistance is vital. If you qualify, you will be able to visit the top institutions you had placed aside since you couldn't afford them. Students interested in seeking admission to the top engineering colleges in India can consult a dependable education consultant offering admission support services. Rush to book your counselling session today!
Engineering Admission 2023 Eligibility Criteria
As per norms of Institution/University, Candidate must pass in 10+2 Examination with Physics, Chemistry and Mathematics minimum 45%.
Note: Percentage criteria depend on Institution/University direction. Each Institute /University has his/her criteria but it should not less than 45% in PCM/PCB.
Eligibility criteria for Engineering admission in India is strictly based on rules and regulations of All India Counselling for Technical Education (AICTE).
We provide proper career Counselling & Admission guidance for Engineering Admissions in India.
We have mentioned about recognition /affiliations Bodies names-AICTE, UGC, MHRD, Deemed Universities, Governmental & Semi Governmental Universities.
If your want to take Engineering Admission in India, Student must check Recognition /Affiliations from these any body. Now days, Students have been looking careers in engineering in a lot of subjects which are as follows bellow.